The map screen is the first thing you'll see when you open SiteZeus. This is the heart of the application and the place where you can search for locations, build layers, analyze prospective sites, study traffic patterns, and generate heat maps.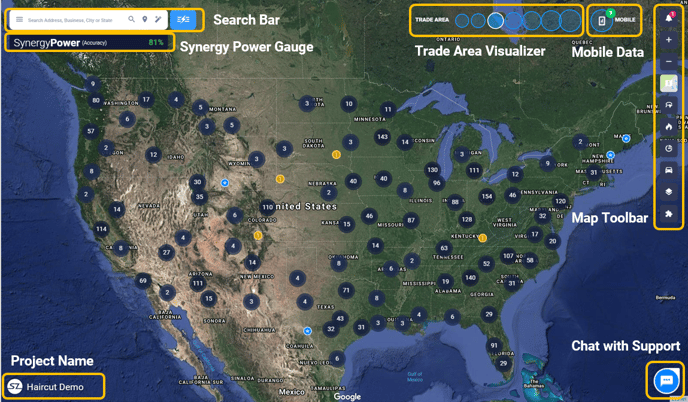 Search bar

From the Search Bar, you can enter the main menu by clicking on the menu button (hamburger icon) on the left portion of the Search Bar.
You can also search in SiteZeus for locations, brands, and business categories. After typing your search criteria into the search bar, you may run three types of searches:
Magnifying glass search: Selecting the magnifying glass icon will return up to 20 results around the area you're viewing on the map.
Layer Database search: Selecting the Layer Database will open the point-of-interest (POI) database. You can search by category, sub-category, or brand name to quickly add all U.S. locations to the layer of your choice.
Magic wand search: The Magic Wand will search within 10 miles of each Existing Site for the search criteria and return 20 results per location.


Synergy Power Gauge
The Synergy Power Gauge is where you will find all of the information about your predictive model. It's shown in its collapsed state in the screenshot above but can be expanded with a click. Use it to learn more about your model's accuracy, Variable Usage, Quadrant Recommendations, and Predictive Outliers.
Trade-area rings
Trade-area rings allow you to visualize the reach of your business in the community. SiteZeus allows you to view several standard-sized trade-area rings or mix and match the ring sizes that work best for you. These options include ¼ mile, ½ mile, and 1, 2, 3, 5, and 10 miles.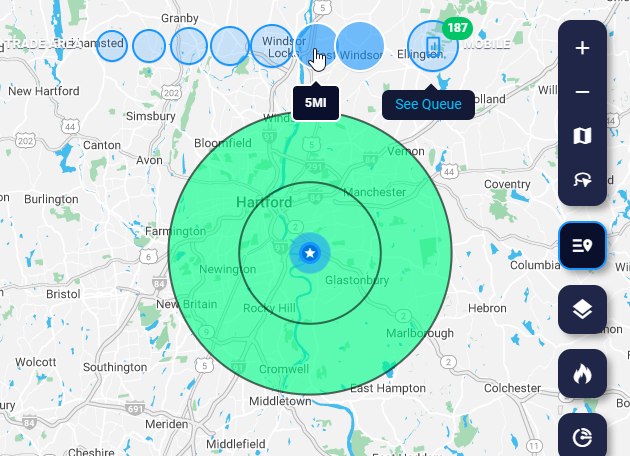 Select a site by clicking on the pin or select a group of sites using the pinning feature.
Click on the ring size you'd like to view. You can hover over each ring to view its name.
You will see the ring or rings appear around your selected sites.
Click on a ring again to turn it off.
You can also visualize trade areas using mobile data.
Update coming soon: This feature is soon to be replaced with a more exciting version which will allow you to visualize and model off of custom shapes, drive times, and mobile data trade areas.
Map Toolbar
The Map Toolbar on the right side of the screen contains most of the mapping tools in the platform.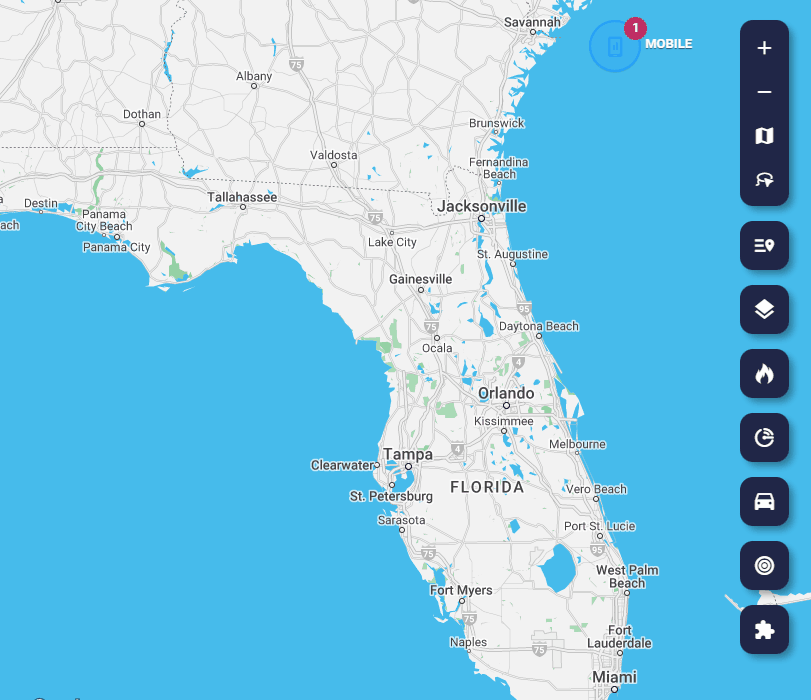 Zoom in: Increase the zoom level of the map.
Zoom out: Decrease the zoom level of the map.
Map view mode: Change between satellite view (default), dark mode, and light mode.
Lasso: Draw a shape to select multiple sites at once.
Sites: Manage all the sites in your project
Layers: Layers lets you toggle on/off site types in your project. Also toggle revenues, territories, and POIs.
Heat map: Create heat maps to visualize revenue potential or demographic data.
Site Sonar: Use our white space analysis solution, Site Sonar, to optimize markets and project revenues for sites nationwide.
Traffic: The traffic tool allows you to access traffic counts. After you click the Traffic button, all roads with available data will be highlighted.

Average daily volume: Hover over each segment to see the average daily volume and direction.
Day-part information: INRIX subscribers can click a road segment to access enhanced traffic data broken down by the time of day and day of week.

Trade areas: Coming soon
Polygons: Polygons allows you to visualize and analyze both standard and custom geographies. Contact the SiteZeus support team if you'd like to add this feature.
Current project
The name in the lower left-hand corner of the map is there to notify you which project you are currently in, which is especially helpful if you have multiple projects in your account.