Visualize and analyze standard and custom polygon shapes
Overview
When trying to determine which market to enter next, it's crucial that you get a snapshot of an area's demographics and competitive landscape. With the polygons feature, you can visualize and study standard polygon sets or your own custom sets.
To use the polygons feature, activate it on the map toolbar.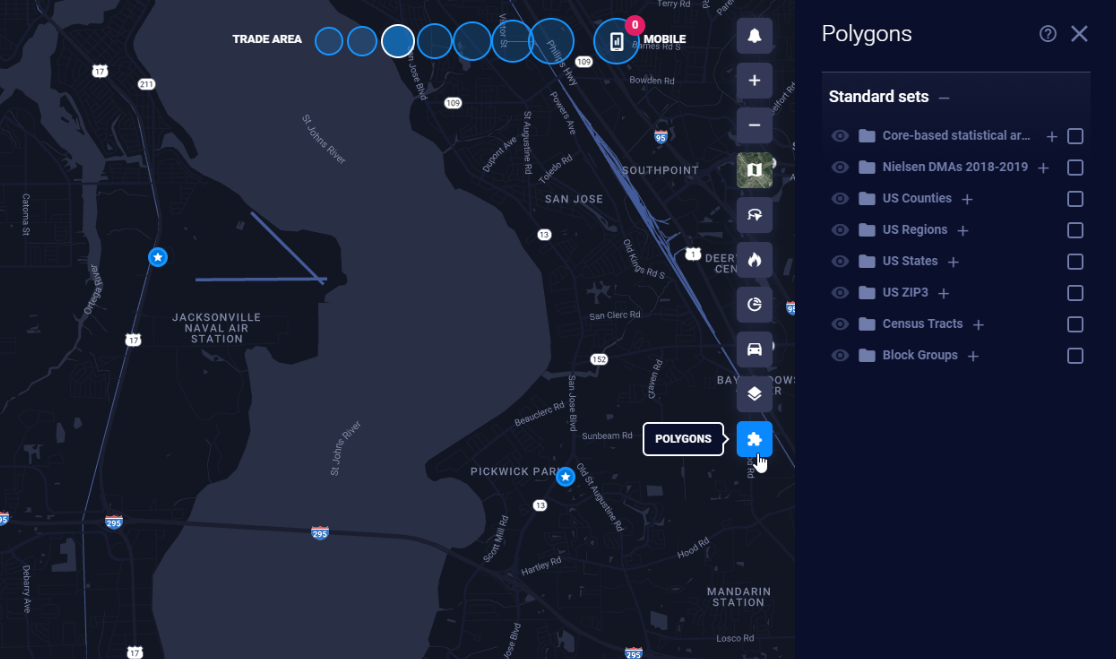 Tip: Use the dark map for better contrast when viewing shapes.
Visualizing a set or shape
Visualize a whole set or individual shapes by clicking on their row in the list or toggling their row's eye icon.
Selecting a set or shape
Select a set using the checkbox. All the shapes within the set will also be selected.
Select a shape by using the checkbox or by clicking that visualized shape on the map.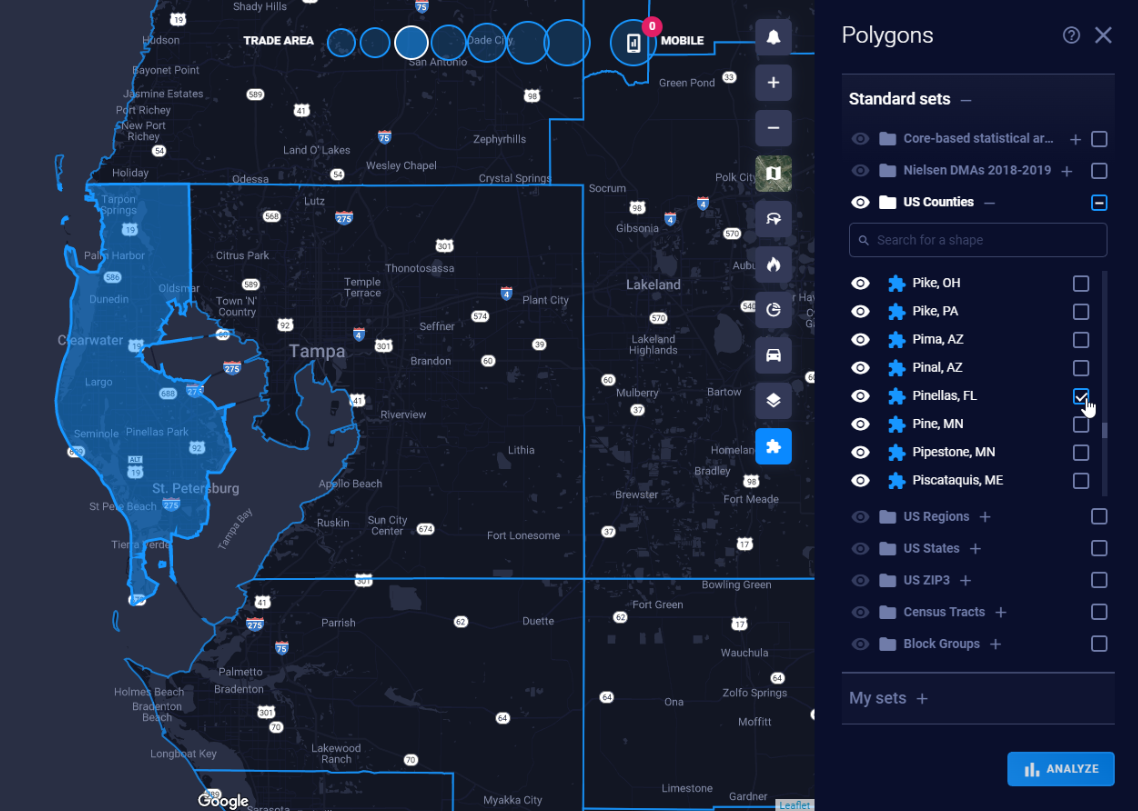 Selecting a set or shape will activate the Analyze button at the bottom of the panel as well as other actions on the Polygons toolbar.
Standard Sets
Core-Based Statistical Areas (CBSAs): U.S. geographic areas defined by the Office of Management and Budget that consist of one or more counties (or equivalents) anchored by an urban center of at least 10,000 people
Nielsen Designated Market Areas (DMAs): The geographic areas in the United States in which local television viewing is measured by The Nielsen Company
U.S. regions: Census Bureau shapes dividing the country into the East, Midwest, South, and West
U.S. states: Shapes for the 50 U.S. States and the District of Columbia
U.S. counties: Shapes for all counties in the United States
ZIP3: Areas based on the first three (or sometimes four) digits of U.S. ZIP codes
Census tracts: Census administrative districts used in collating census data within a county
Block groups: Statistical divisions of the census tract areas and the smallest geographical division available
Generating census tracts and block groups
For a more granular analysis, use the new census tracts and block groups polygons.
Note: Due to their high volume, these polygons must be loaded within a larger boundary to maintain optimal performance.
Click census tracts to expand the set, then click the Show counties link to see all counties displayed on the map.
Select the counties you want to generate census tracts within by clicking the shapes on the map or using the checkbox next to that county in the list. After you've made your selections, click Generate.
The census tracts will appear inside those counties. The county set will now be hidden, and the census tracts set will be visible. You will also see census tracts appear in the list, where you can toggle them on and off.
You can now select individual tracts for demographic analysis and more.

Using counties to generate census tracts
To include additional census tracts, click Show counties again and select more, then use the link to toggle between counties and census tracts to add the ones you need. Click Clear all to delete unwanted shapes.
Note: Generating block groups is an identical workflow to census tracts.
My Sets
You can add custom shapes by copying standard ones, drawing or uploading your own. They will appear in My Sets.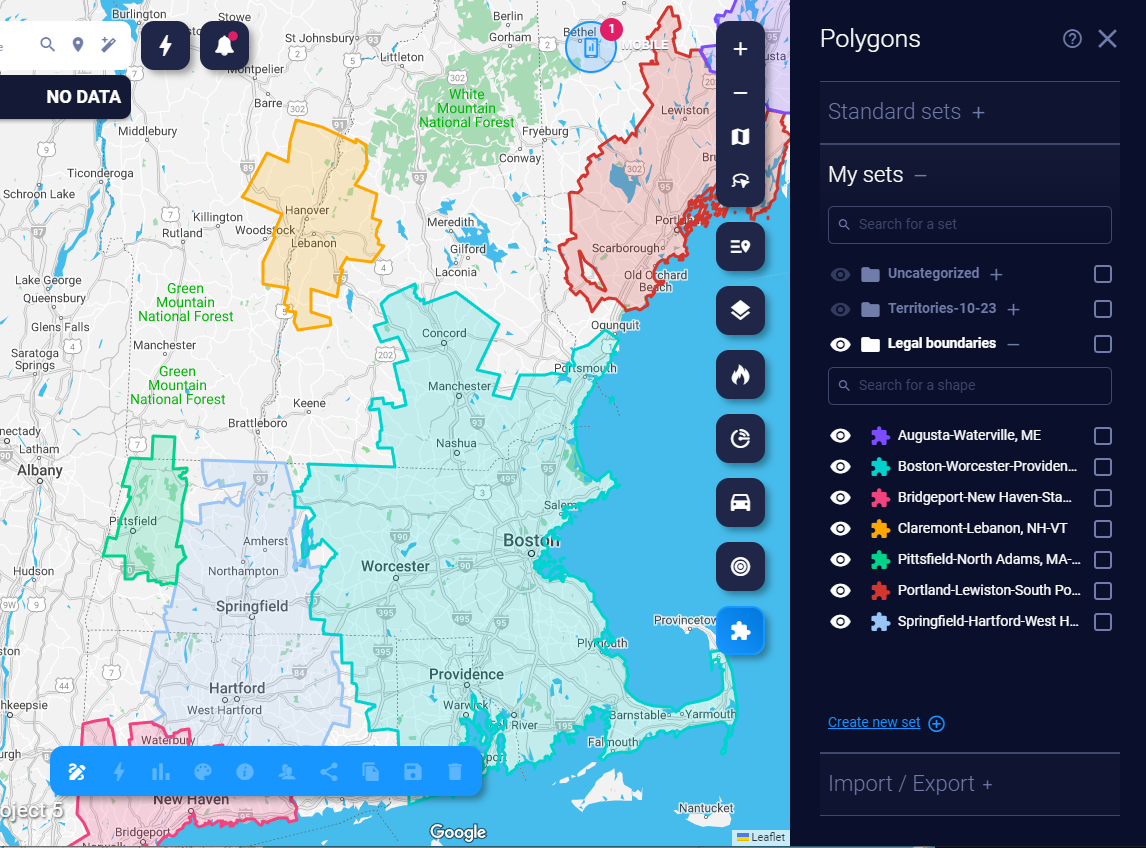 Contact support to enable this feature, as it's part of the Territory Management add-on.
Create a new set
To add a new set, press the Create new set link below your list of sets in My Sets. Provide a unique name, and press the check or hit enter on your keyboard. The new set will appear in the list of sets.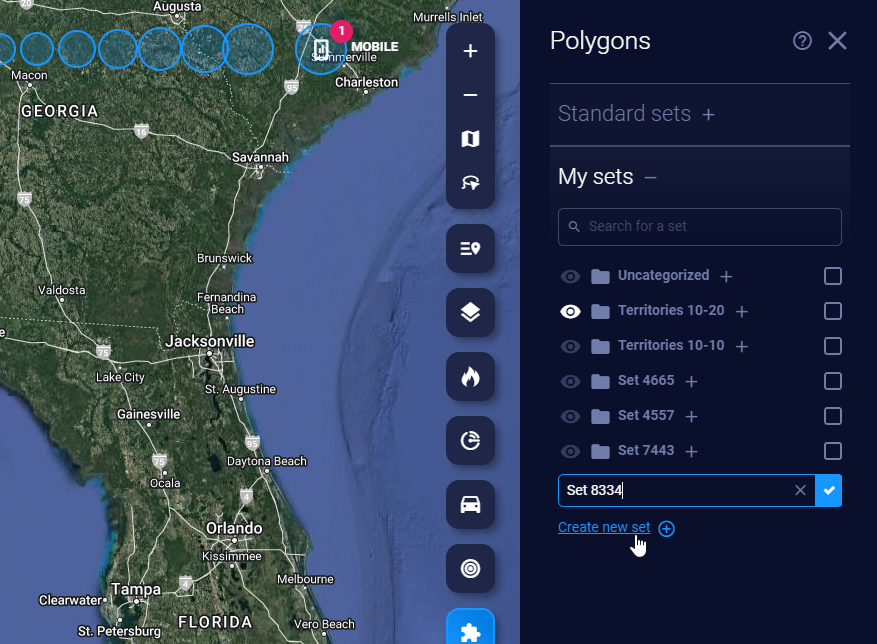 Rename a set
You can also rename a set by pressing the Edit icon in the set's row. It will allow you to provide a unique name for the set or cancel.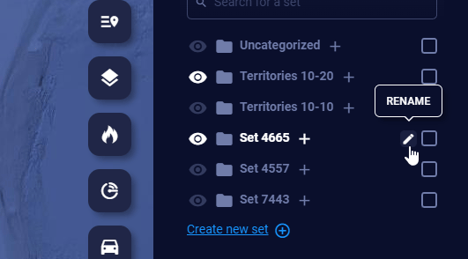 More My Sets actions
You can now add shapes to your My Sets by drawing, moving, or copying shapes in from other sets. You can also add them by uploading your own.
See Polygons Shape Tools for more actions you can do with shapes and sets.
Analyzing sets and shapes
Click the Analyze button to launch the Analyze Shape panel and study the selected shapes' demographics and layers.
Use the checkboxes to add or remove shapes from the analysis. For example, if you need to meet a certain population criterion, adjust your shape selections until that value is met.
Demographics
Sorting and filtering variables: Use the search bar to filter the variables by name, and use the arrows next to the headers to sort by variable type, name, or favorite status.
Favoriting variables: There are many demographic variables to study. If you're only concerned with a select few, you can set them as favorites by toggling the heart icon so that no other variables are shown in the list. To return to the complete list of variables, select Load all.


Layer sites
Get a look at the presence of your competition in the selected shapes. Quickly calculate the number of layer sites and their average unit volume (AUV).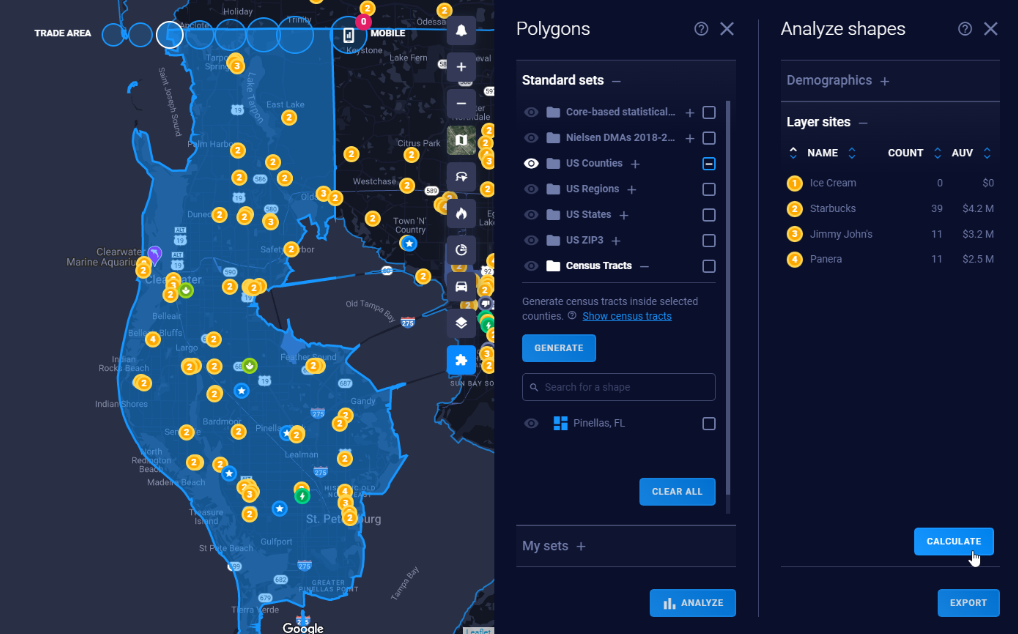 Note: You must add layer revenues to your project to calculate their AUV. You can do this by manually entering the revenue for layer sites or using Restaurant Trends data. Contact SiteZeus Support to get Restaurant Trends added to your project. Only layer sites with non-zero revenue values will be included in the AUV calculation.
Export
Once your demographics have been calculated, click Export at the bottom of the Analyze Shapes panel to generate a CSV file. This file will include all demographics for your selected shapes and break out your favorited variables.
Import / Export
To import and export your custom polygons, see Import / Export polygons.