Learn about how certain features can help you to better understand your customers
SiteZeus offers several methods for identifying and extrapolating your customers' behaviors, demographics, and psychographics on a geographic basis. The following two ways are the most common and recommended methods for diving deeper into your customer base.
With customer segmentation
Determine which psychographic/demographic groups most often visit your proposed or existing locations so you can characterize your target markets in a distinguishable and predictable way.
Identify potential customers more efficiently.
Cater marketing campaigns and product offerings to your brand's top population segments.
Find synergistic businesses by figuring out where your customers were right before they came to your store.
For example, let's take a look at the primary social segments that are currently populating for this brand's existing locations. To do so use the filter that is available at the top right corner of the screen to select only the existing locations and then select Apply.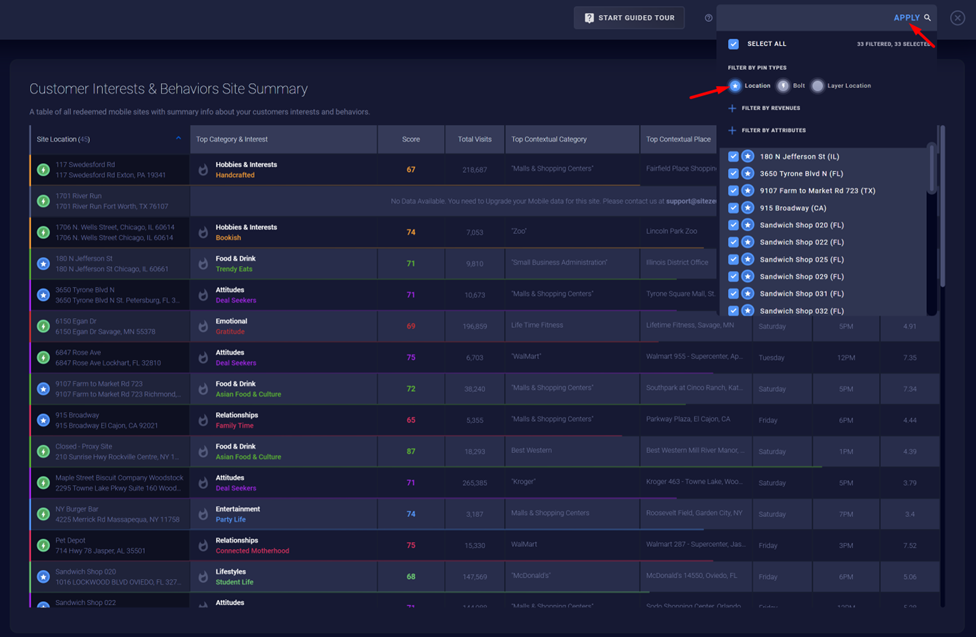 After doing so, you will notice the current list adjust accordingly to now only include the existing locations.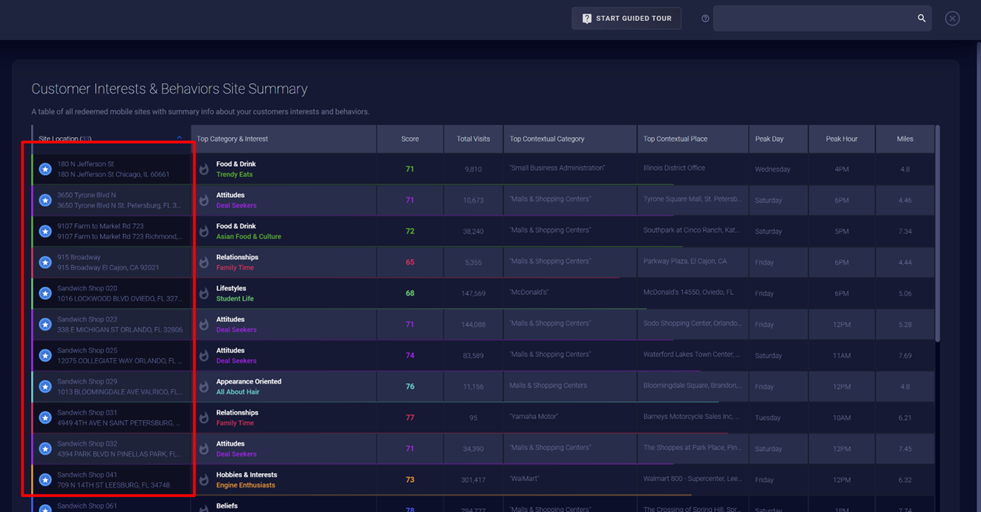 From here you can view what some of the most popular segments are on the right hand side, such as the Deal Seekers category in this case, and what the peak hour for visitation is for each store location. These times appear to be primarily between 11am-1pm and 4pm-6pm. This could then be interpreted, for example, as the primary windows for lunch and dinner, which align with the expectations in this category for sandwiches.
Not only can you view this information, but you can also understand where your customers are most often coming from before arriving at your location. In this case, for example, we can see that shopping centers are the main previous location, and for that reason you may want to consider asking your marketing team if they can increase the amount of advertising you do in those shopping centers.
You can take this a step further by analyzing the total visits to determine which stores should get priority for additional marketing spend, given that those stores have a higher visit volume. For example, this store in Orlando, Florida would be the highest priority in the current list, given that it has the highest visit count among the sites that have shopping centers as the top contextual place.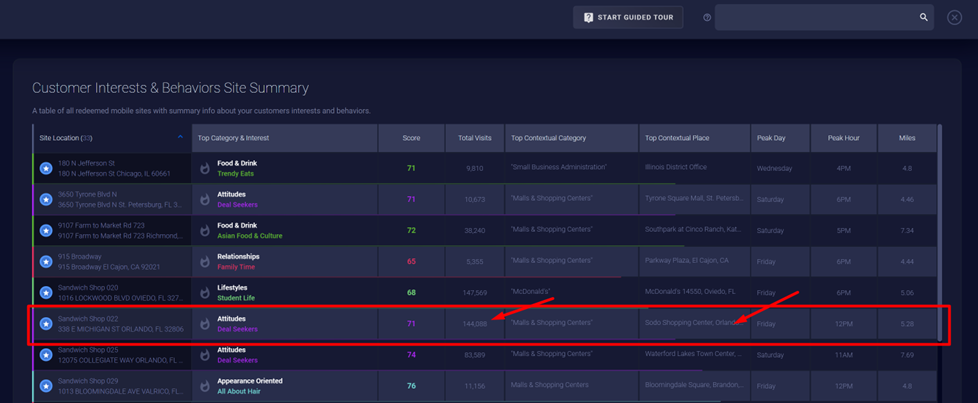 You can also view more granular information about a particular segment by selecting it from the list on the left of the customer segmentation dashboard. For example, if we want to look at more information regarding who makes up the Deal Seekers category we can do so by selecting it and reading the additional information, such as what the key topics are that this segment is interested in and what their median age and income are.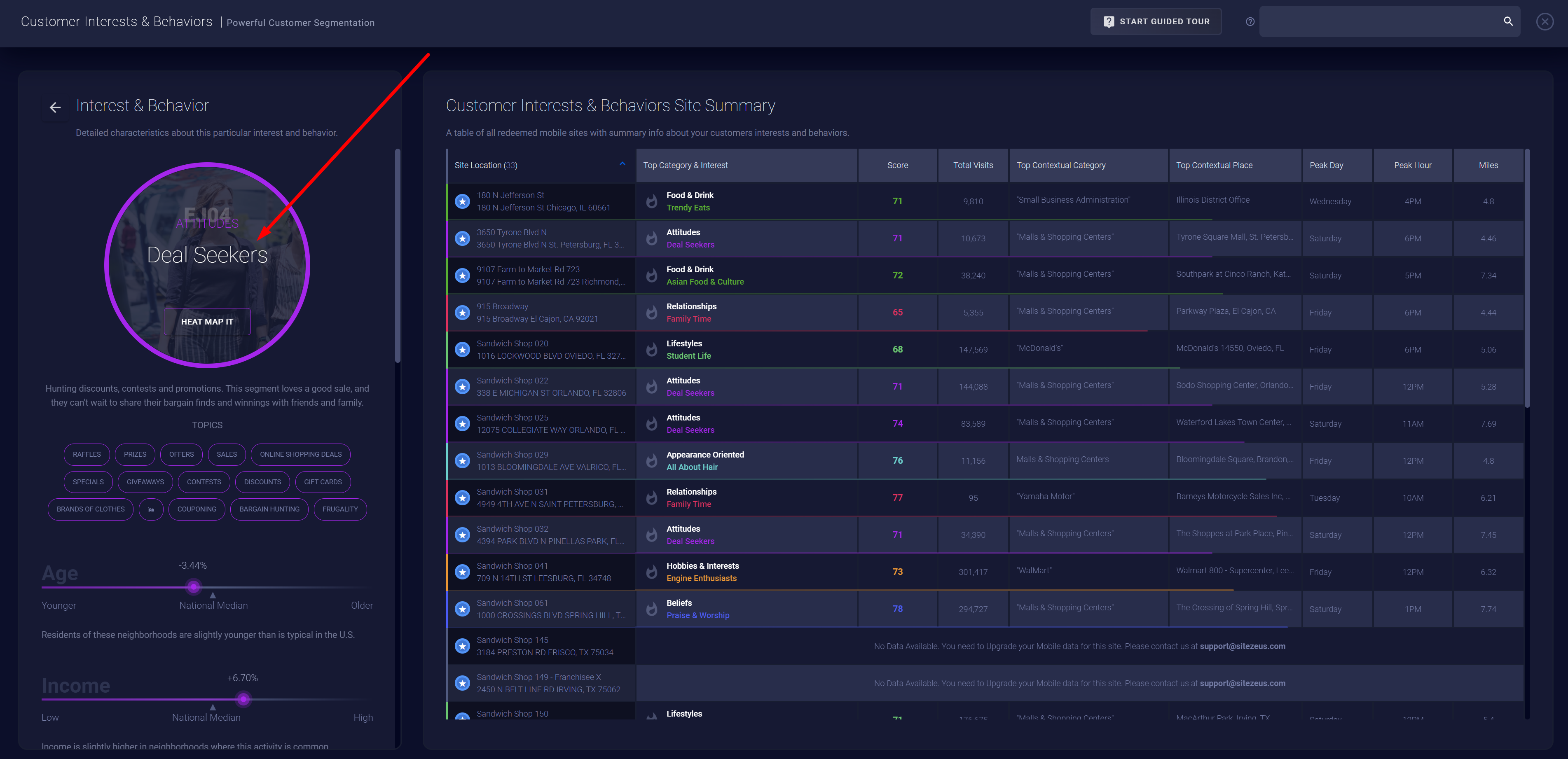 Lastly, you can quickly heat map any one of the social segments directly from the customer segmentation dashboard to better understand where those individuals are located and assess if there is additional opportunity for growth in those areas or if there is opportunity for targeted advertising in those areas. For example, if we heat map the deal seekers category we can see a pocket that has a high presence of this category that does not currently have a location, such as this region below.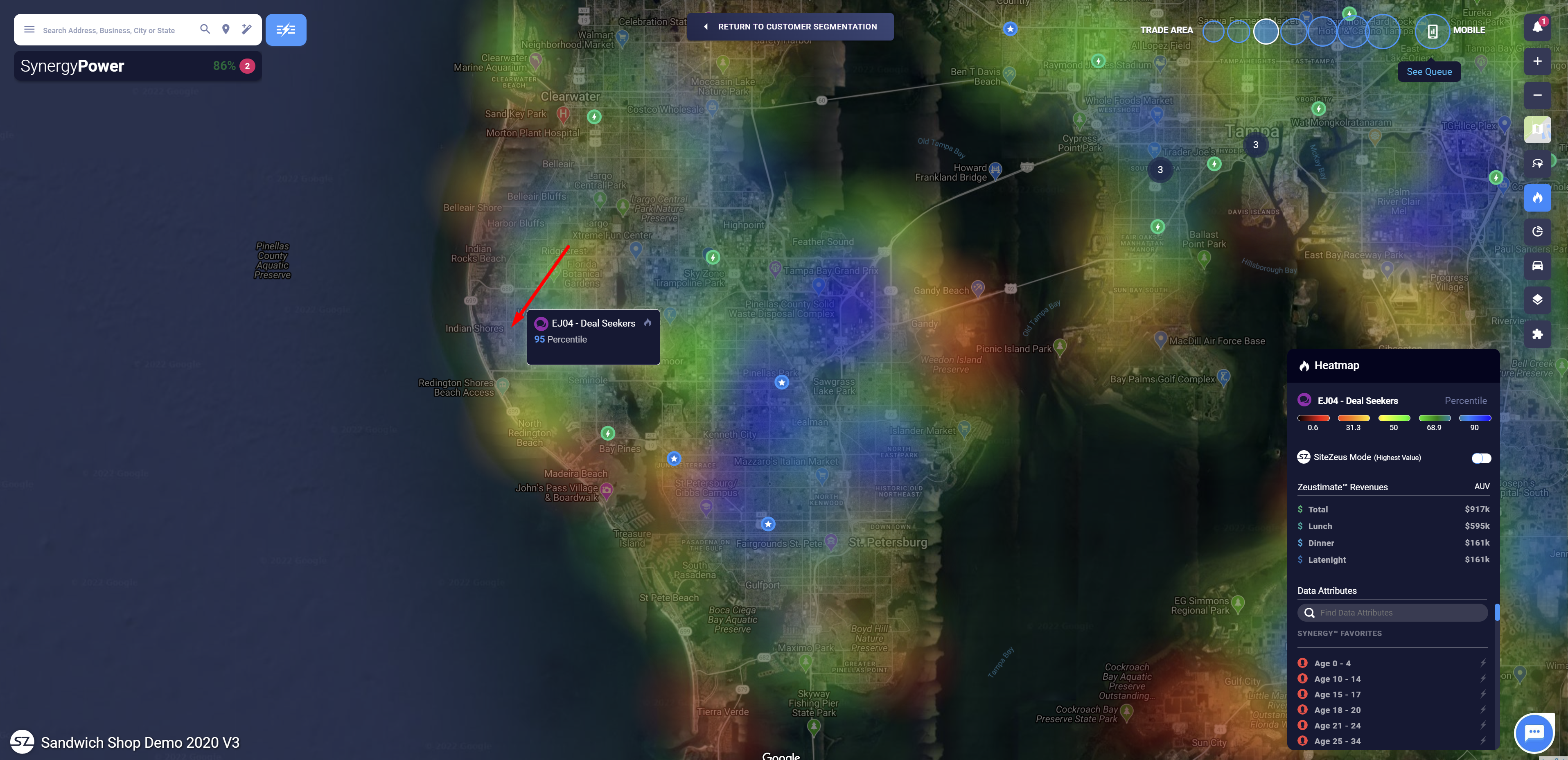 Learn more about Customer Segmentation
With heat maps
Easily visualize your target demographic or psychographic segments and assess this data at the county, city, or block level. For example, quickly determine where the daytime population is most dense, which areas have a younger age profile, or which neighborhoods have a more prevalent hipster culture.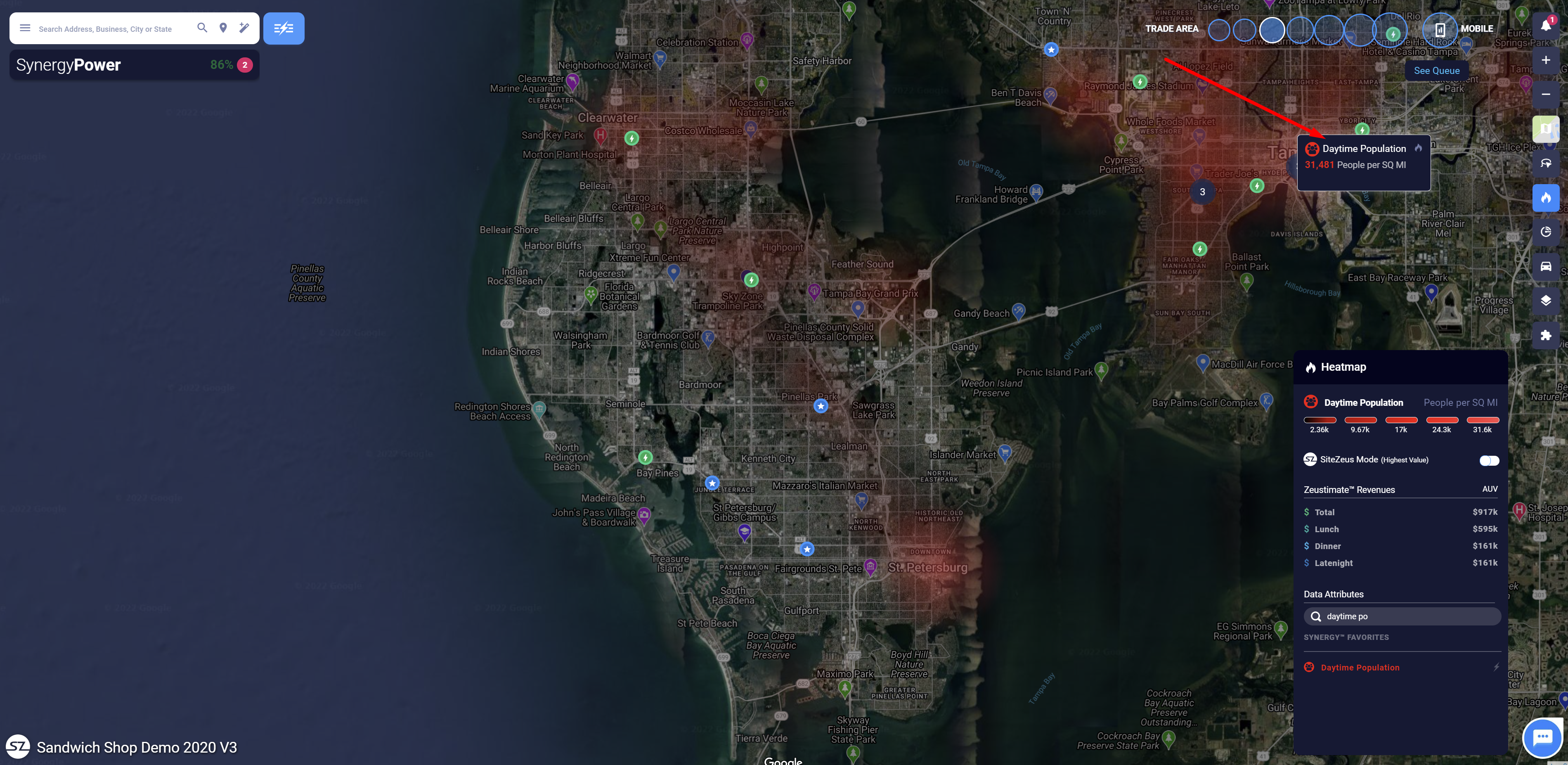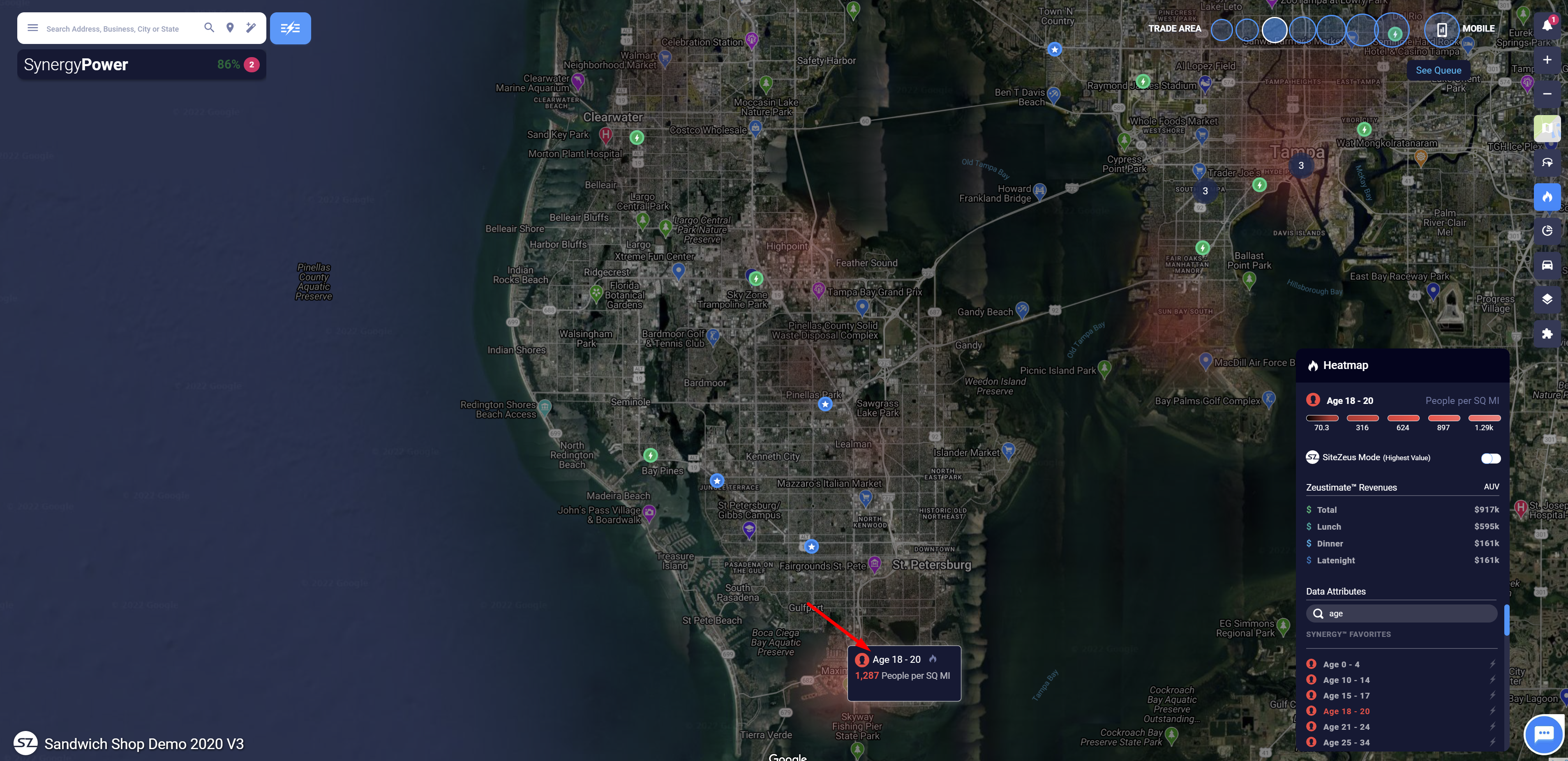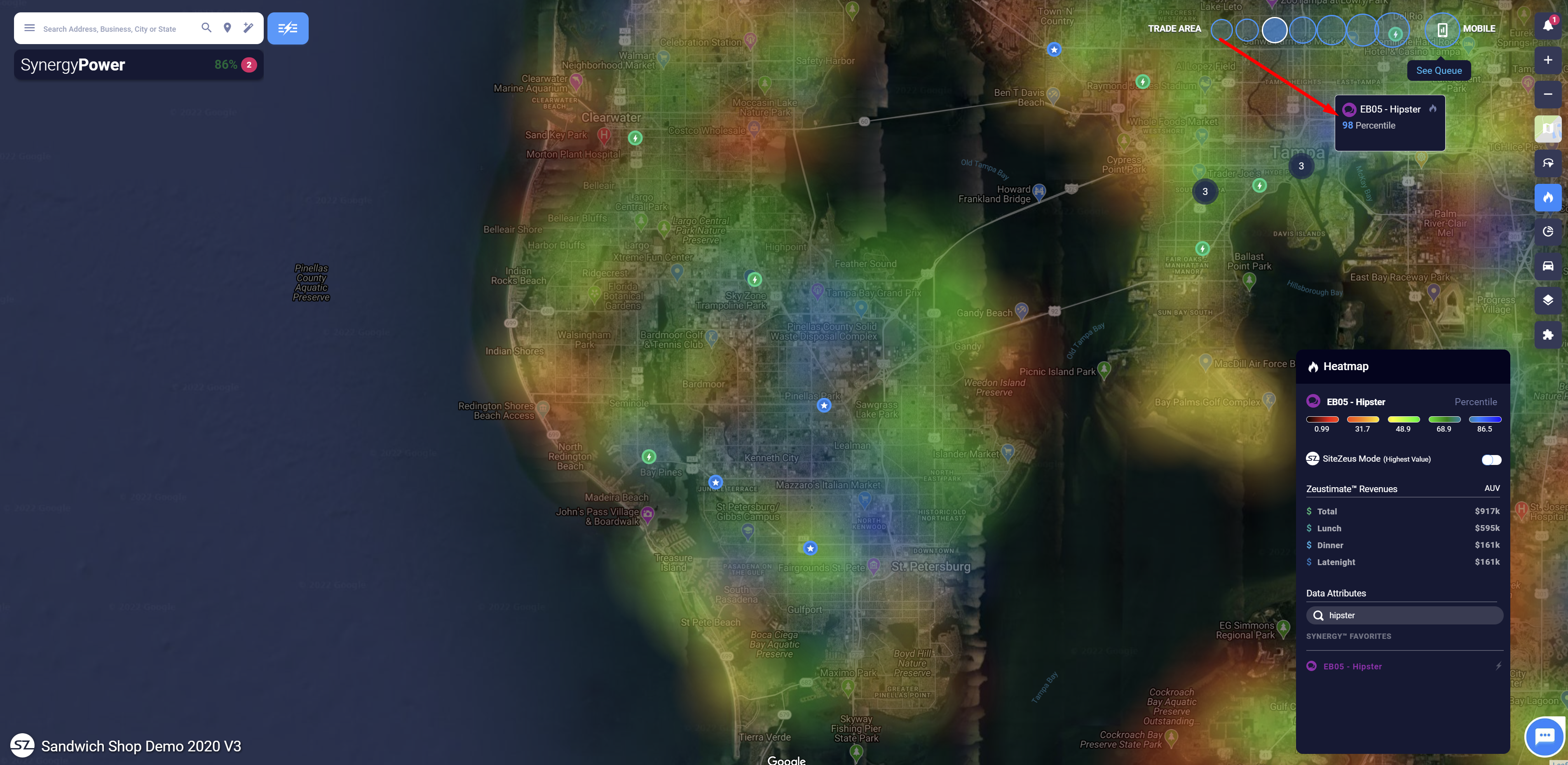 Overlay a heat map with traffic data to see how traffic volumes coincide with the prevalence of a variable such as family household size. This can help you better conceptualize which roads customers are taking, which way they're traveling, and what time of day they're driving.