This solution combines social media–based consumer segmentation data with geofenced mobile data to create customer profiles by location
What is customer segmentation?
Customer segmentation is the process of dividing customers into groups based on common characteristics for more effective marketing. It's made possible by combining geofenced mobile data social media psychographics to understand customer behaviors for a specific site or group of sites.
Questions customer segmentation can answer
Who is my customer?
Is my customer profile different at my Manhattan location than my New Jersey location?
What are the relative demographics of my customer base?
Can I find more of these groups in new markets?
What type of content should I create to appeal to my customer base?
What is my true trade area?
Are customers passing the highway, or is it a natural barrier?
How far are most people traveling to my location?
What day of the week is my busiest day? Busiest time? How is that different on the weekend versus during the week?
Where are most of my customers coming from? The mall? The airport?
What you'll need to perform customer segmentation in SiteZeus
Spatial.AI geosocial data bundle
Near's human movement data (You'll need one license for each site you want to profile.)
Troubleshooting
If you see the below image, you must subscribe to the Spatial.AI data bundle first before Customer Segmentation unlocks for your account.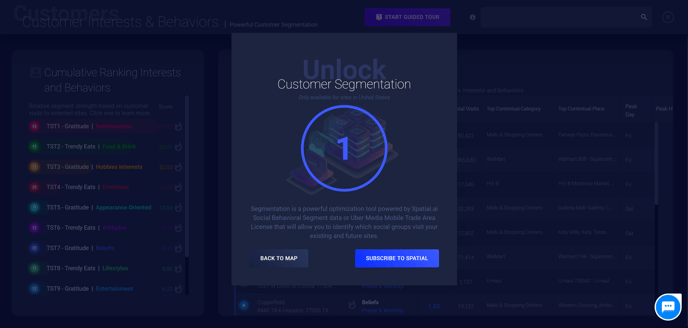 How to perform a customer profile analysis for a location
Open the Main Menu and click Customers


Look through list to identify the site or group of sites whose customer behaviors and interests you want to study.
Click any interest or behavior to view more detailed information.


To generate a heat map for a behavior, click one of the three places in the Customer Segmentation Dashboard.