Understand when to run sales and closure impact and how to interpret the results
Running Sales Impact
Use the Sales Impact feature to...
Evaluate how much cannibalization your new proposed location would have on your nearby existing site(s) and consider this when making decisions regarding whether to build the new store location or not.

Consider setting a benchmark for what you would consider an acceptable cannibalization percentage

Understand, as a Franchisor, whether your franchisee's new proposed site location encroaches upon a different franchisee's existing location
Understand, as a Franchisee, how the new site you are considering for development would impact your current portfolio of sites
Running Closure Impact
Use the closure impact tool to evaluate...
How many of your customers you could potentially lose by closing a location
Which of your nearby stores your customers would transfer to if you were to close that location
Whether any of your customers would transfer to your new proposed locations that are not operating yet
Whether you have the opportunity to relocate an existing location by closing it and moving it to a new proposed location
What the uplift percentage, in terms of revenue, at each nearby store would be as a result of closing a location. This is based on the actual revenue for existing sites and forecasted sales for proposed locations
What the loss, in terms of revenue, would be across your portfolio as a result of customers who would abandon your brand due to the closure of a location in the designated market
Whether you should reconsider the development of a previously rejected proposed location due to the significant uplift in sales that could occur if that site was developed and one of the nearby sites was closed
Note: Running both Sales Impact and Closure Impact in a single market takes your analysis a step farther by allowing you to understand the movement of your customers from both a new development and a retired development perspective at the same time. This ensures that you maximize your revenue potential in any market and assess the overall potential gains and losses, given various locational changes within an existing market.
Decision process when running Site Sonar & Closure Impact
First run sales impact to evaluate if a new consideration site can be opened near an existing location, such as this pair of sites in St. Petersburg, Florida. If it is determined upon load that the impact is higher than what would be an acceptable impact percentage, such as this case where the 11.08% impact is higher than the acceptable industry percentage of 10%, run closure impact to determine if relocation is an option.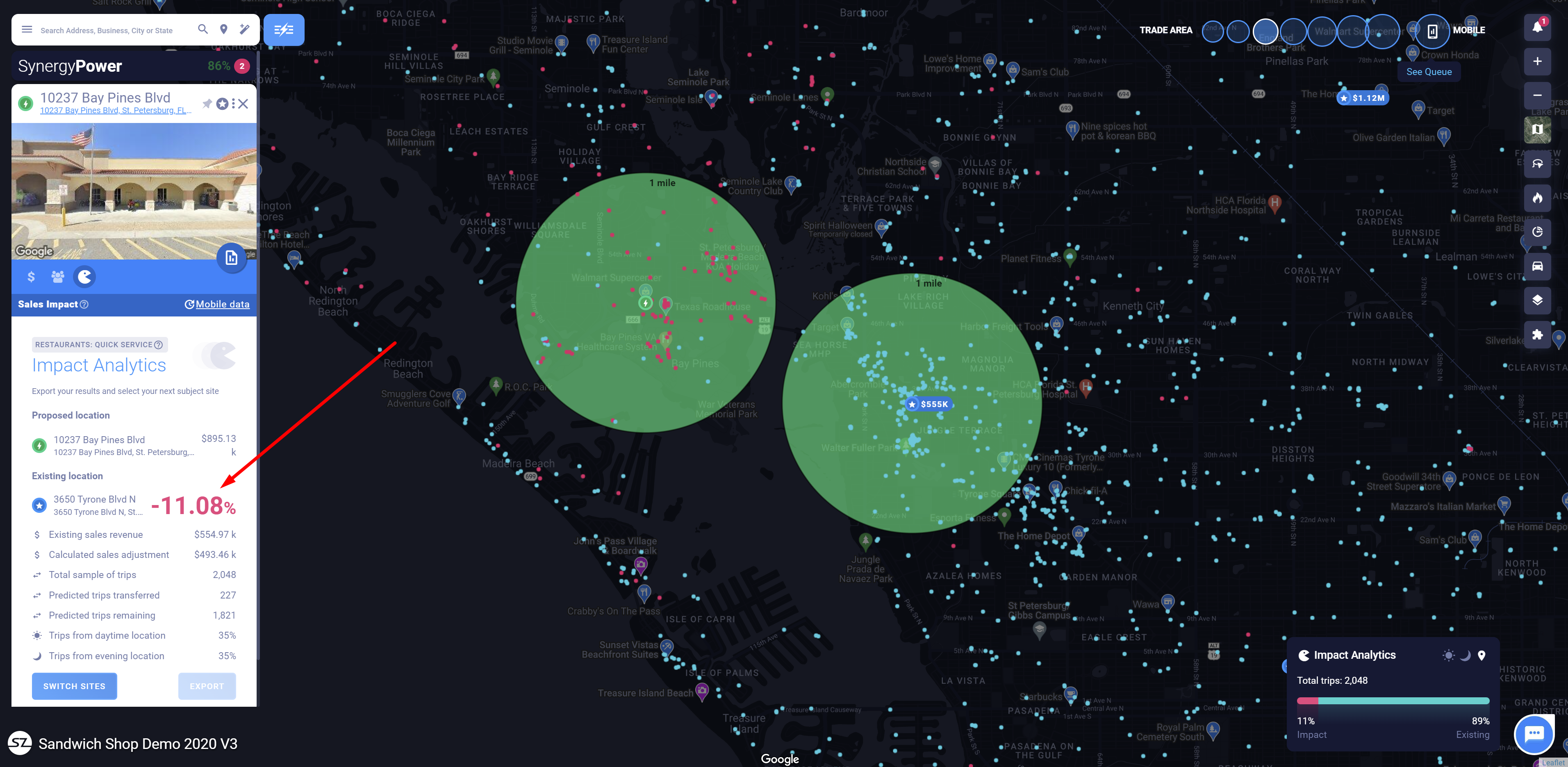 To run closure impact, select the existing site (which in this case is a low performer), then select the new consideration site and nearby existing sites in the market to run against. Upon load determine how much of an uplift percentage there would be at each of these locations.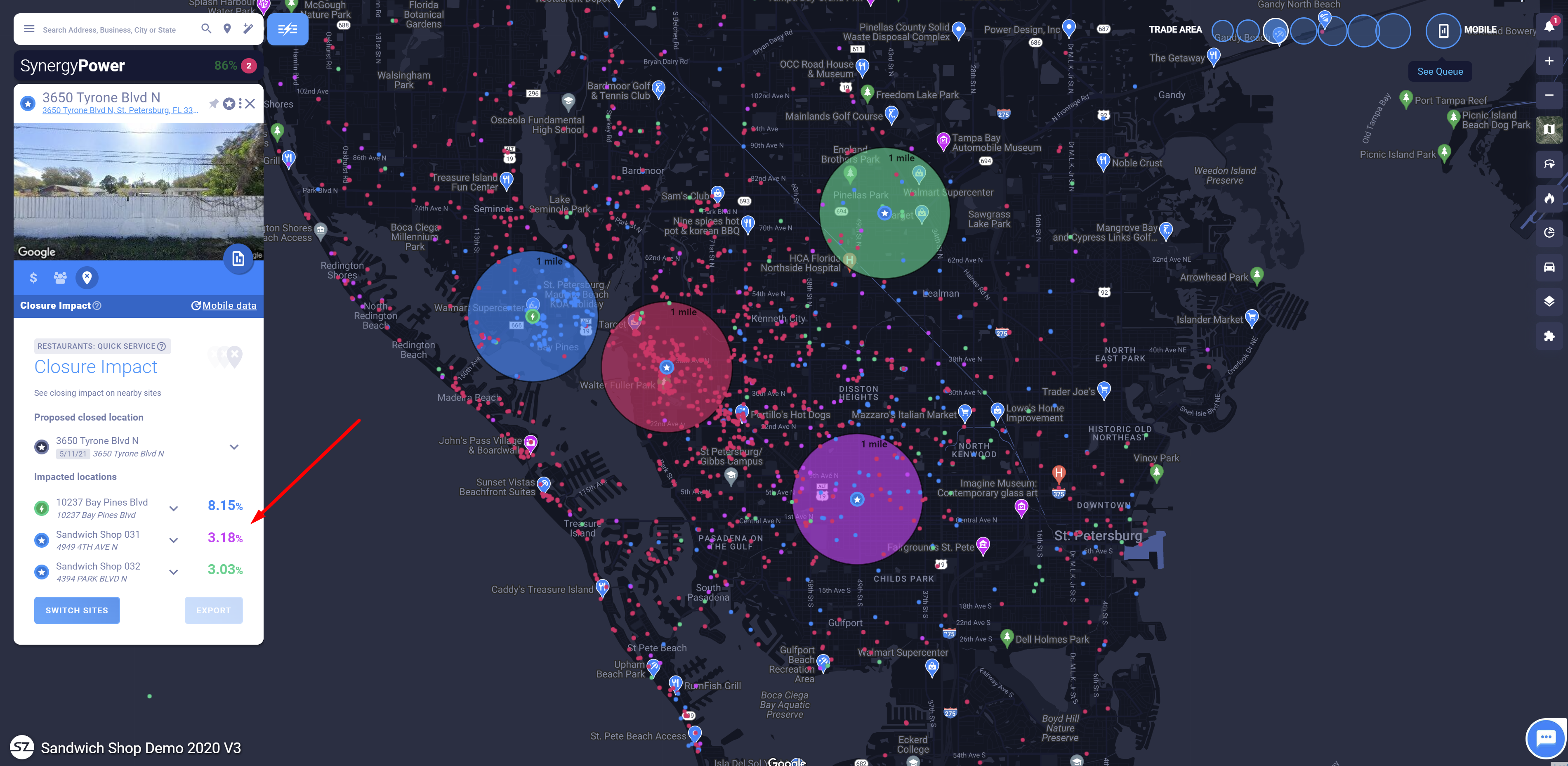 Take this a step farther by drilling down into the closure metrics for each of the locations, such as this new consideration site, and evaluate how much of an impact this uplift has on your sales. In this case it appears that the projection for the new consideration site, which is already higher than the current revenue at the proposed closed location, will increase significantly as a result of the transfer of customers from the current store to the new location if it was relocated.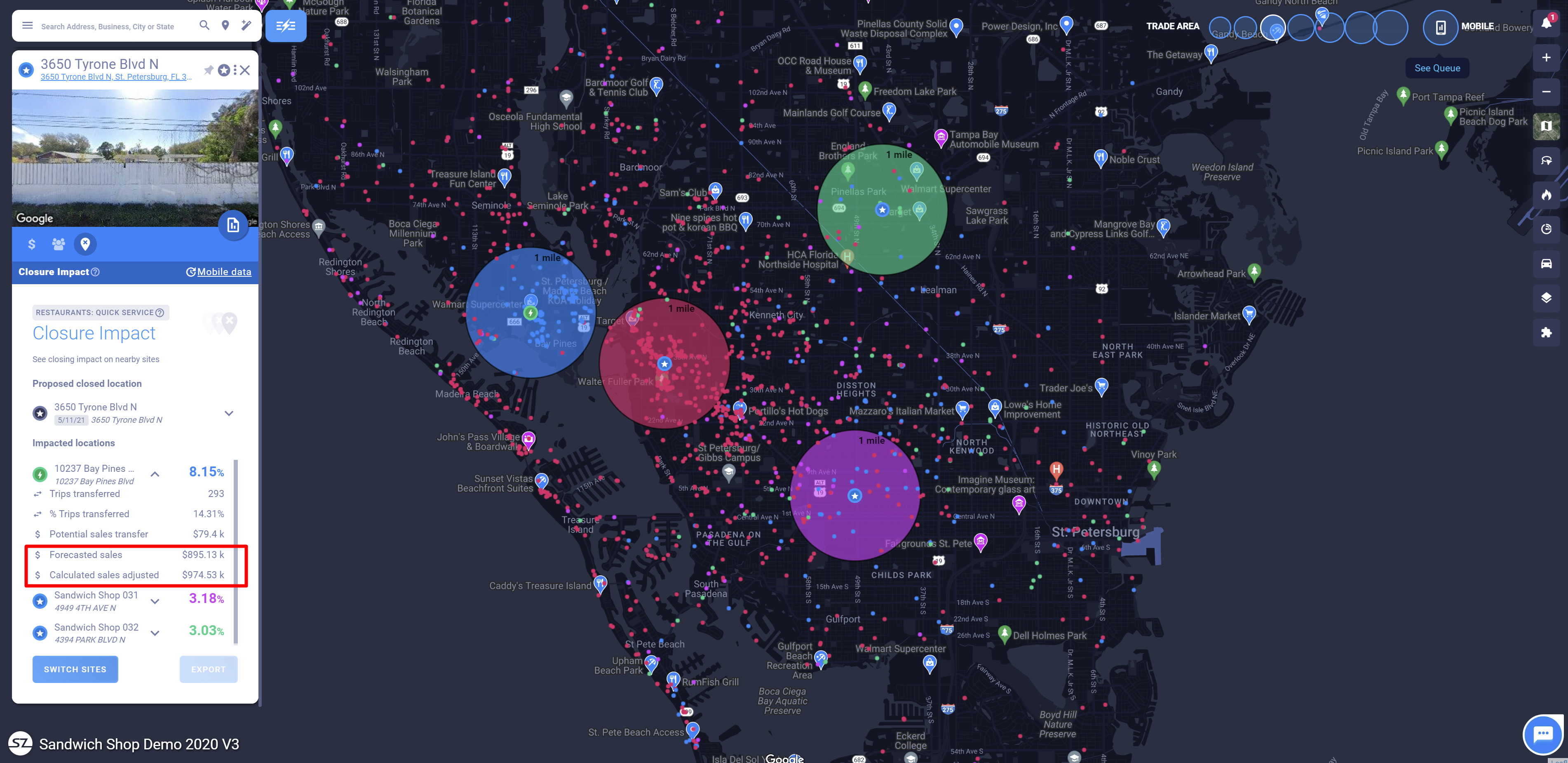 Furthermore, analyze what percentage of the trips tracked are expected to be lost as a result of the closure and determine if that result is acceptable for the market. For example, in this case 73% is higher than what some may consider an acceptable percentage. However, in addition to analyzing the percentage lost, it is important to evaluate the adjusted dollar amount lost in comparison to the uplift and additional projected revenue for the new location.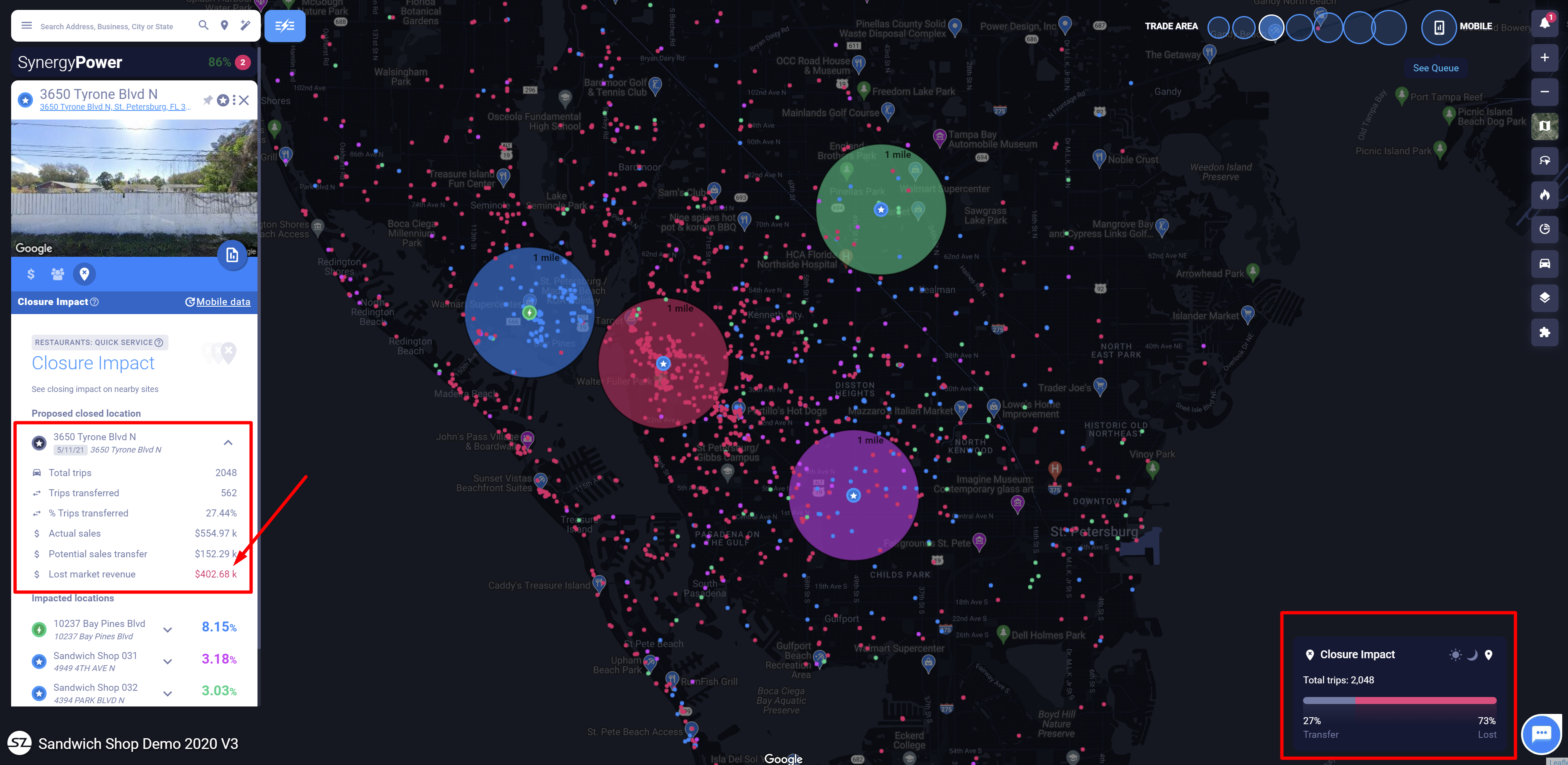 | | | | | | |
| --- | --- | --- | --- | --- | --- |
| | New Store Projected Revenue: 10237 Bay Pines Blvd | Proposed Closed Store Lost Revenue: 3650 Tyrone Blvd N | Total Projected Revenue (New Store - Proposed Closed Store) | Current Proposed Closed Store Revenue | Expected Increase In Revenue As A Result Of Closure |
| Sales | $974.53K | -$402.68K | $571.85K | $554.97K | $22.1K |

As can be seen, even with the lost market revenue subtracted, the adjusted expected revenue for the new store is higher than the current revenue produced by the current location by $22.1K. This could indicate that it would be an acceptable closure abandonment rate as a whole and aid in the decision to relocate the current location to the new store.
After running both sales and closure impact you can gain a full understanding of what the opportunity would be if you opened the new location without closing the existing location and what the opportunity would be if you relocated the current existing location to the new location. From this you can then make the most informed decision regarding what opportunity would generate the most return on revenue for your brand.
---
Learn more about Sales Impact and Closure Impact