Tutorial and SiteZeus Demographics
What are Quick Demographics?
Quick demographics are a quick glance at major demographic data points for each trade area.
Demographic Data Points:
Total Population
Ethnicity
Male/Female Ratio
Median Income
Ages

Percentage of Population in 10 year increments
Percentage of Population in 5 year increments
Quick Demographics can be viewed by each trade area: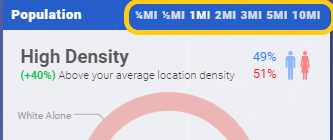 How do I access Quick Demographics?
Single Click any pin on the map and you can access Quick Demographics for a location. Quick Demographics are under the people icon.
Select a Trade Area at the top of the Quick Demos window. The Trade Areas at the top of the map will also change your Quick Demos view.
Click on +Ages to expand ages to five year increments.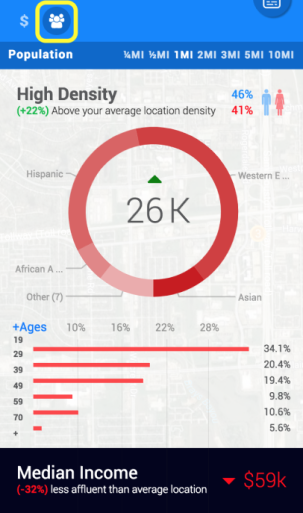 Quick Demographics Report
To run a Quick Demographic Report, click the report button at the top right of the panel.
Select the Quick Demo's SitePak from the Report Wizard and follow the prompts.